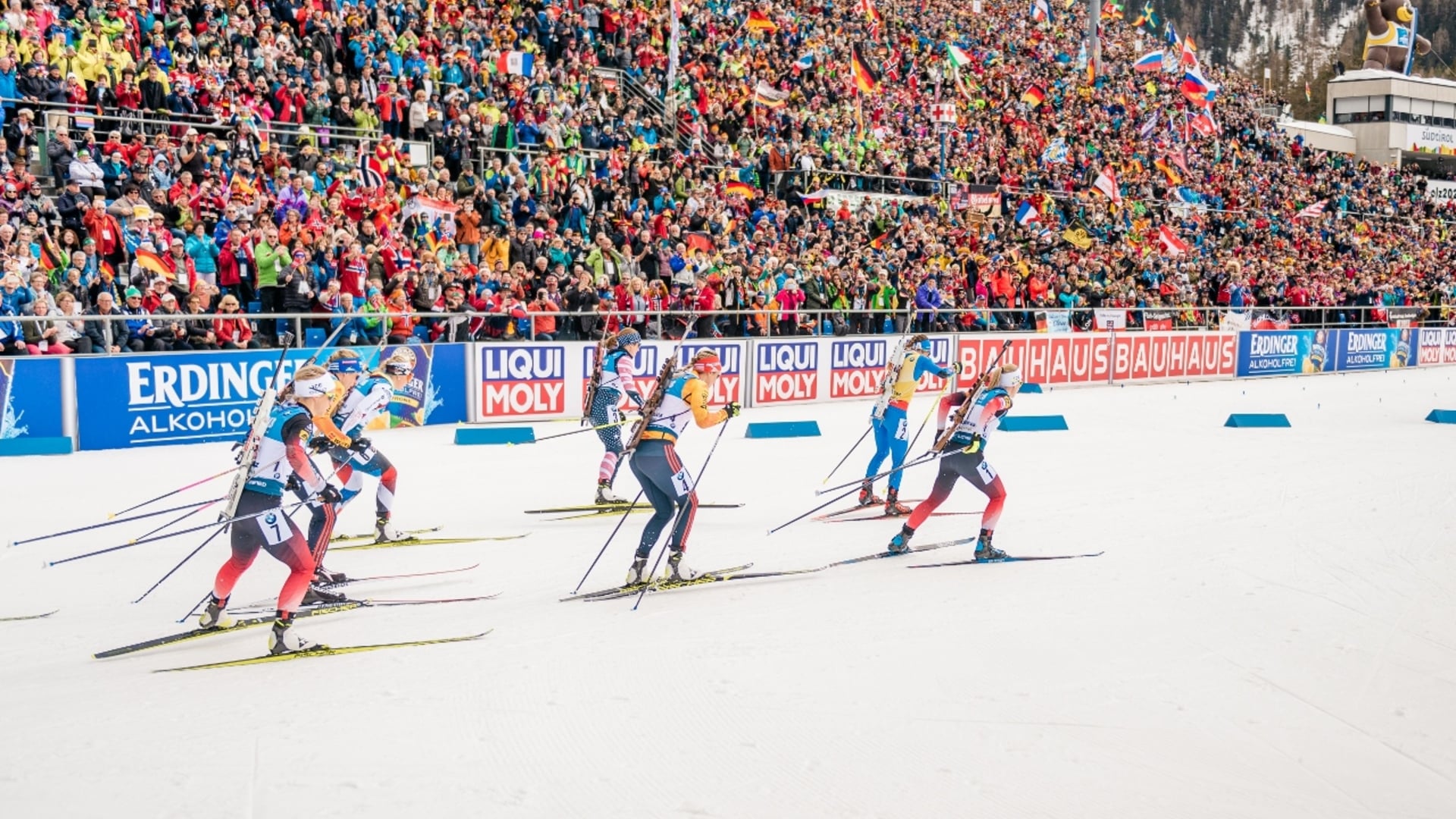 19.11.2022 - Biathlon World Cup in Antholz: 60 days to go
This year's Biathlon World Cup starts on 29 November in Kontiolahti, Finland, and also in the Antholz Valley everyone is already looking forward to the World Cup event in the third week of January 2023.
There are exactly 60 days to go. Then 300 athletes from 35 nations and thousands of fans are expected in the Südtirol arena from 19 to 22 January.
Ticket sales started
After the World Championships in 2020, the races in Antholz had to be held twice, due to the pandemic, without spectators. This year, the organisers can finally celebrate the World Cup together with the large international biathlon family again.
The works are already in full swing in the Südtirol Arena, and ticket sales have also started. Tickets are still available in almost all categories (you can buy them online at www.biathlon-antholz.it). In addition to the many sporting highlights, the fans in Antholz will of course also be offered a varied music and entertainment programme, with bands performing both in the stadium and in the spectator's tent.
The World Cup programme in Antholz will start on the first two race days with the Sprint races, followed by the Pursuit on Saturday, 21 January. The World Cup will end on Sunday, 22 January with the relay races. All eyes will obviously be on local favourite Dorothea Wierer. Last year, the 31-year-old from Rasun celebrated a victory in the mass start here.
Athletes look ahead to the World Championships in Oberhof, Antholz to the 2026 Olympic Games
For all athletes, the World Cup in Antholz represents a key event in the biathlon year, as it will be the last international test before the season's highlight, the World Championships in Oberhof, Germany. Accordingly, many of the top stars will try to put the finishing touches on their shape in the Südtirol Arena Arena.
For the local organising committee, on the other hand, the World Cup is good advertising in view of the 2026 Winter Olympics. As is well known, in four years all Olympic medals in the biathlon will be awarded in the Südtirol Arena. What could serve as a better calling card for Antholz than a four-day World Cup sports festival?
The programme at the Biahtlon World Cup in Antholz:
Thursday, 19 January 2023
14.30h: 7.5 km Sprint women
Friday, 20 January 2023
14.30h: 10 km Sprint men
Saturday, 21 January 2023
13.00h: 10 km Pursuit Women
15.00h: 12.5 km pursuit men
Sunday, 22 January 2023
11.45h: 4x6 km Relay women
14.30h: 4x7.5 km Relay men

All stages of the BMW IBU World Cup 2022/23:
29.11.2022 - 04.12.2022 Kontiolahti (FIN)
08.12.2022 - 11.12.2022 Hochfilzen (AUT)
15.12.2022 - 18.12.2022 Annecy Le Grand Bornard (FRA)
05.01.2023 - 08.01.2023 Pokljuka (SLO)
11.01.2023 - 15.01.2023 Ruhpolding (GER)
19.01.2023 - 22.01.2023 Antholz (ITA)
08.02.2023 - 18.02.2023 Oberhof (GER) - World Championships
02.03.2023 - 05.03.2023 Nove Mesto Na Morave (CZE)
09.03.2023 - 12.03.2023 Östersund (SWE)
16.03.2023 - 19.03.2023 Oslo Holmenkollen (NOR)