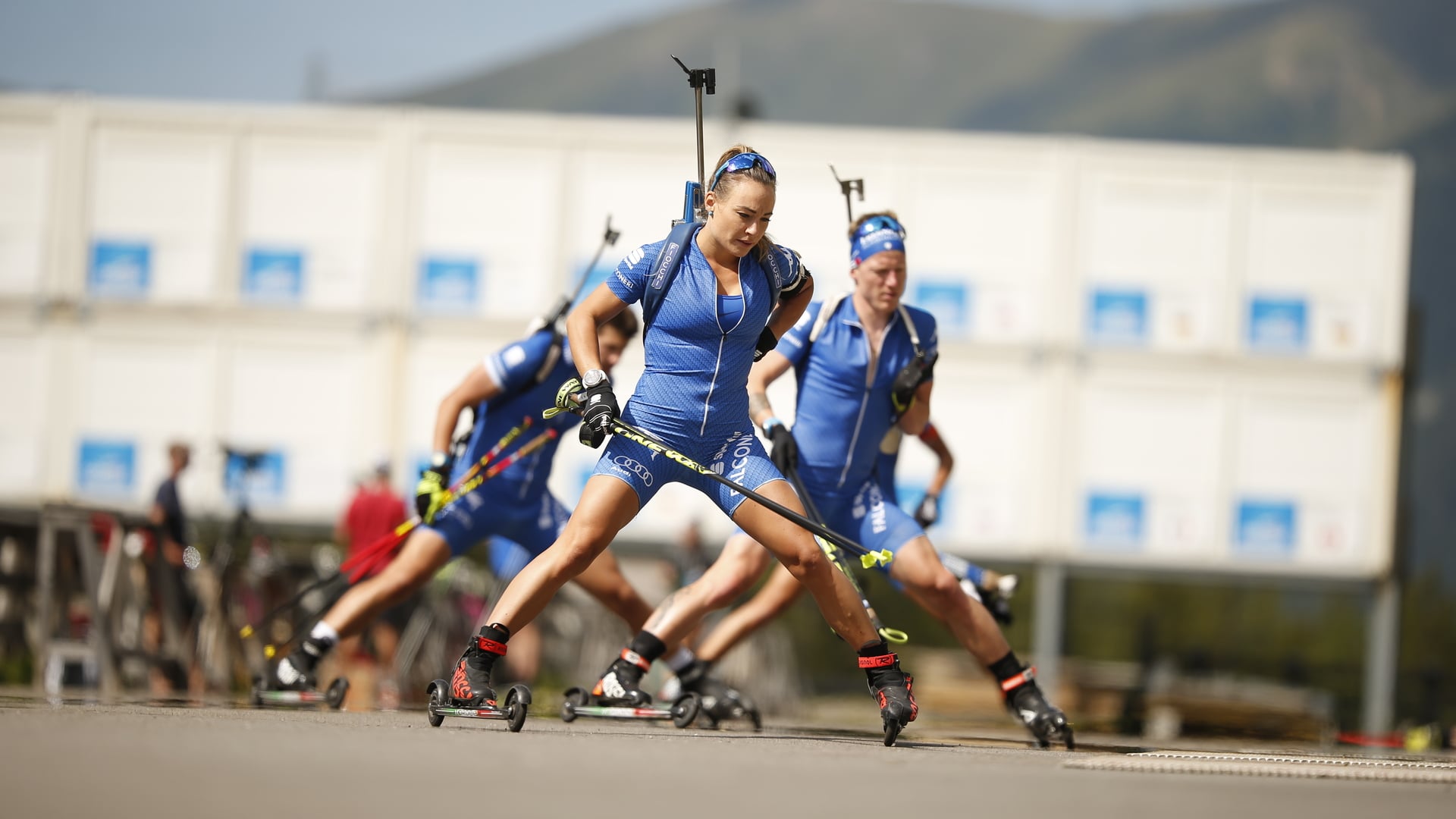 Training area
All about stamina and strength
The Südtirol Arena as a training centre
Everything in the Südtirol Arena points to sport. So you can power yourself up in the fitness centre, hone your skills on the shooting range and boost your condition on the roller ski track. And whatever your level of sport, you can be sure of a hearty welcome.

The favourable setting at above 1,500 metres and our efficient supply of artificial snow using the TechnoAlpin Snowfactory ensure that the trails remain in top condition throughout the winter. You will thus find a whole El Dorado of cross-country routes from December to late March. Whether you choose the easy 2.5 km trail, the flat lakeside loop or the rather more demanding 5 km route, the wide diversity of trails are suitable for both classic and skating-style skiing.

Along with 11 other holiday regions in the Dolomites, we have combined forces to create Dolomiti Nordicski, the largest cross-country zone in Europe. With the highest quality of trail, you will take even more pleasure from cross-country skiing. Regardless of whether you are a beginner, advanced or a pro, you are certain to find a route here to meet your requirements.

Nor does the sporty pulse die away in the Südtirol Arena during the warmer months. You can use our facilities simply for jogging and roller skiing. Our 2.7-km roller ski track promises thorough training for your technique. Or come and improve your marksmanship all year round at our shooting ranges, standardised for international competitions. Finally, our modern fitness centre is available at any time for training sessions. Come and catch biathlon fever!
Cross-Country tracks in winter
The Cross-country & Biathlon Centre Antholz with its 1,600 metres above sea level is ideal for altitude training on cross-country skis.
The daily 20 kilometres of perfectly prepared slopes, which are open from December, invite you to prove your endurance in classic or skating style.
Whether challenging trails with long uphills and rapid downhills or rather easier slopes for improving technique - Antholz has the right trail for every taste.

Costs:
Daily ticket: 12,00€
Weekly tickets: 50,00€
Season ticket: 120,00€

Skiroller Track in summer
The 2016 restored and extended skiroller track extends over a total length of 2.7 km through the forests and meadows around the Südtirol Arena Alto Adige.
The roller track is accessible to everyone. Skiroller knowledge required.

Costs: 6,00 € per day and person.
Shooting Range
IBU approved shooting range according to international regulations with 30 shooting lanes for calibre 22. The electronic system Hora 2000E is used for the targets. The shooting range has a roof and lighting, is adequately marked and has wind vanes. Shooting mats and rufle holder are available on site.
In addition there are also some targets for air pressure rifles.
The use of the shooting range is only permitted with prior notification to
.
Costs: 6,00 € for calibre 22 (10,00 € shooting range and skiroll) and 3,00 € for air pressure (7,00 € shooting range and skiroll) per day and person.
Gym
In the Südtirol Arena Alto Adige a brightly-lit gym is available to professional athletes for specific training sessions. The gym contains several tools for a total body workout.
Costs: 4,00€ per day and person.

An annual subscription can also be issued for the gym.
Costs: 150,00€ per person.